Stephanie Gilmore of Australia became the women's champion at the Quiksilver and Roxy Pro Gold Coast, the opening stop on the World Surf League (WSL) Championship Tour. Stephanie had beaten three-time WSL Champion Carissa Moore (HAW) in the Quarterfinals with a perfect 10-point ride and compatriot Sally Fitzgibbons (AUS) in the Semifinals. The 6th time WSL Champion defeated Lakey Peterson in the final. The women surfed in four-to-six foot waves in windy conditions at the world-famous Snapper Rocks.
"I haven't had the yellow jersey for a while and it's going to feel so good to put that on," continued Gilmore. "Getting to win an event again was really cool and it feels really rewarding to win. It's so far from here but I'd love to win another World Title. It's the greatest feeling in the world to win here, in the greatest place on earth in my eyes."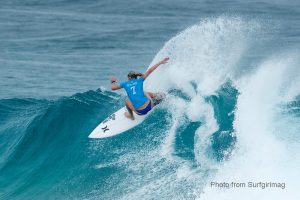 Lakey Peterson has been on a tear throughout the competition, posting consistently high scores including a perfect 10 in Round 2 and the two highest heat totals of the Roxy Pro. Peterson previously defeated Johanne Defay (FRA) in the Semifinals and reigning WSL Champion and defending event winner Tyler Wright (AUS) in the Quarterfinals en route to the Final.
"I can't complain too much with the result," Lakey said. "I just missed it by one spot so it keeps the fire lit in me. It stings a little, but I really think I put together a great contest and did my absolute best. It was a really fun time and I'm so stoked the waves worked out as well, we got pumping surf for this event. To compete against Stephanie Gilmore here gives me chills and is one to remember."
But weeks before Lakey was to head to the Gold Coast she broke her ankle badly while surfing at home. Instead of battling for a title, she sat out the first five events of the season. Determined to get back where she belongs, Lakey trained hard, observed carefully, and listened intently to her support crew. And it seems to be working. She was on fire all week at Snapper Rocks, dropping 10s and near-10s in her heats. She finished with a strong runner-up finish in the Roxy Pro. A huge step toward her master plan: "Heck yeah I want to win a World Title!" She responds when asked.
Roxy Pro Gold Coast Final Results:
1 – Stephanie Gilmore (AUS)
2 – Lakey Peterson (USA)
Roxy Pro Gold Coast Semifinal Results (1st, 2nd):
SF 1: Lakey Peterson (USA) def. Johanne Defay (FRA)
SF 2: Stephanie Gilmore (AUS) def. Sally Fitzgibbons (AUS)
Roxy Pro Gold Coast Quarterfinal Results (1st to SF, 2nd = 5th):
QF 1: Johanne Defay (FRA) def. Nikki Van Dijk (AUS)
QF 2: Lakey Peterson (USA) def. Tyler Wright (AUS)
QF 3: Sally Fitzgibbons (AUS) def. Keely Andrew (AUS)
QF 4: Stephanie Gilmore (AUS) def. Carissa Moore (HAW)
For more information, please visit
WorldSurfLeague.com