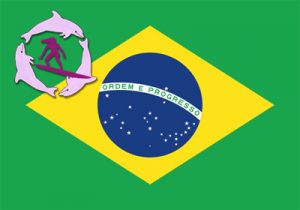 Brazil, a vast South American country, stretches from the Amazon Basin in the north to vineyards and massive Iguaçu Falls in the south. With over 4,000 miles of coastline and a country that loves the beach life, Brazil is becoming a dominating factor in the surfing world.
Brazil has seen a boom in its surfing population due to the rise of the middle class, two years of Brazilian surfers winning premier surfing titles (US Open of Surfing 2015 & 2016) and the rise of big wave riders star, Maya Gabeira, who may be the world's highest paid surfer, male or female, after receiving an endorsement from Lululemon. World class surf titles that were once dominated by Australians, Americans and South Africans, is now being taken by "The Brazilian Storm" of surfers.
This country was once famous for its Samba music, food, and Carnival Festivals, is now adding to its list for having world class surf breaks like: Praia Brava, Arpoador, Barra da Tijuca, Ipanema, Praia da Macumba, Pratigi, Joaquina Beach and Maresias just to name a few.
This is our list of Top Female Surfers from the Brazil..