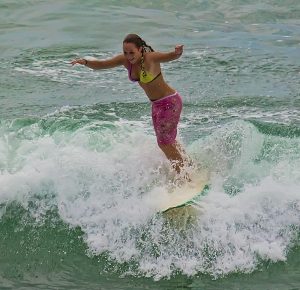 There is no better way to improve your surfing techniques than to join one of the surf camps in the country. You can learn to surf and ride your first wave without fear under the guidance of a professional instructor.
Here are some of the advantages of enrolling in a surf camp:
1. It shortens your learning curve. It is quite natural for someone to be frightened when surfing for the first time. This fear is lessened though when a professionally trained instructor breaks down the process in detailed steps. You learn the fundamentals of surfing etiquette and how nature such as the wind, wave formation, and tide could affect your ride. Thus, there is not much second guessing and you get to know how to surf better in a short time.
2. The proper surf gear is introduced to you. Taking into account your physical condition, a surf camp will orient you on the correct surfboard that you should be riding and the appropriate wetsuit to wear.
3. You take your first surfing lessons in a safe environment. With a trained instructor and the right gear, you are able to immediately wrap your head around the idea of you surfing the unpredictable waves of the ocean. The best surf spots are chosen for you based on your ability to surf. Even if you fall, you are confident that the surf camp staff are monitoring your progress and would mentor you on where you can improve on.
4. You get to enjoy surfing with the group. It is more fun to learn a sport when you have others learning the same way as you are. A surf camp is also a good venue to meet other like-minded individuals that you can possibly invite to your surfing activities after the camp.
Having your surfing lessons in surf camps is a good investment. You start on the right note and it makes you look much cooler on that surfboard.
Check out a Surf Camp Destination.