PE'AHI, Maui, Hawaii/USA (Saturday, October 28, 2017) – Paige Alms (HAW) has won the World Surf League (WSL) Big Wave Tour (BWT) Pe'ahi Challenge today in towering 30-to-40 foot-plus conditions at the world famous Pe'ahi in Haiku, Maui, Hawaii.
The second event of the 2017/2018 BWT season tested the top big wave chargers as a solid swell delivered massive surf over two days at Pe'ahi with wave faces exceeding 45 feet. Event officials have rated this year's Pe'ahi Challenge a Gold coefficient, the highest possible BWT rating, which will allocate 15,625 points to first place.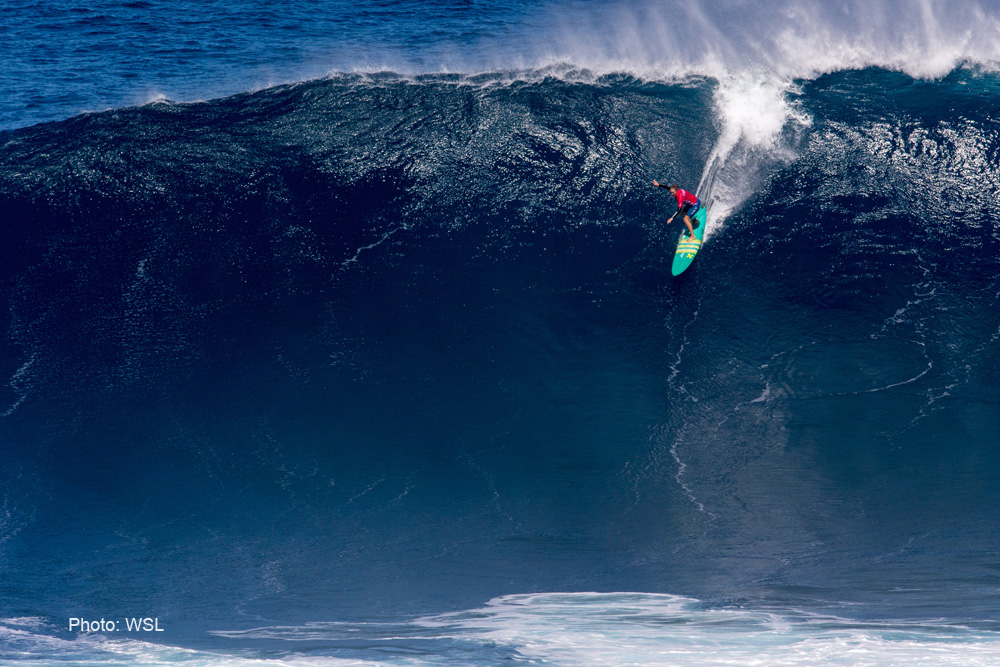 2016 Women's Big Wave Champion Alms successfully defended her event title after defeating a stacked field of competitors in the Final. Alms, who became the first ever Women's Big Wave Champion at Pe'ahi last season, made history once again with her unprecedented big wave victory.
"I feel so grateful to be able to sit out in an empty lineup at firing, perfect Jaws," Alms said. "It doesn't get much better than that. Every single one of the women today sent it on a bomb. There were big waves out there and I was kind of kicking myself for not going on one set, but I just feel super stoked and honored."
The Women's Pe'ahi Challenge saw all six competitors charge monstrous set waves in the 60-minute Final. Alms stayed selective throughout the Final, utilizing her local knowledge to take off on two gigantic waves for the winning score, an excellent 21.23 combined score (out of a possible 30).
"Anyone that says they're not scared of this place, I think they're lying," continued Alms. "I think it's the most powerful and intimidating big wave anywhere in the world, by far. I definitely look up to Ian (Walsh) and I'm super stoked that he won it. We couldn't have asked for anything more – it definitely put on a show so thanks Pe'ahi!"
Big wave veteran Keala Kennelly (HAW) earned second place in the women's event with four fearless attempts. Kennelly turned in a 17.21 heat score, including an impressive completion for a 7.17 single-wave score. Justine Dupont (FRA) looked in great form with three big attempts and took the third place result. Bianca Valenti (USA), Andrea Moller (BRA) and Felicity Palmateer (AUS) also charged the epic conditions to earn fourth, fifth and sixth place, respectively.
2017/18 BWT Women's Pe'ahi Challenge Final Results:
1 – Paige Alms (HAW) 21.23
2 – Keala Kennelly (HAW) 17.21
3 – Justine Dupont (FRA) 14.36
4 – Bianca Valenti (USA) 10.86
5 – Andrea Moller (BRA) 6.41
6 – Felicity Palmateer (AUS) 4.54
For more information, check out WorldSurfLeague.com. Click Here to watch videos of this event.