I recently photographed amateur and professional female surfers charging 4-to-7-foot waves at the Supergirl Pro in Oceanside, Calif. During the exciting three-day event, I photographed the surfers, fans, audience, and event activities.
While these women were ripping in the waves, a constant topic of conversation that came up during the contest was the lack of sponsorship for female surfers. I learned that the cost of competing and traveling all over the world can be thousands of dollars, and that finding sponsors for female surfers was extremely difficult. This eye-opening topic led me to do my own research about how female surfers can find and acquire sponsorship to help with the expenses of being a global competitor. I also leveraged my own experiences having worked for a major sportswear company that sponsored athletes.
If you are serious about becoming a professional surfer girl competitor, below are some tips in acquiring sponsorship.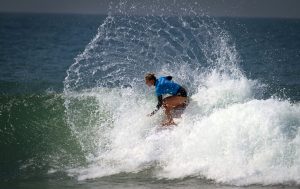 1. 1. BE A TOP SURF COMPETITOR
First, you need to be a good enough surfer to enter and win contests, including performing the latest tricks and moves. Hiring a surf coach is one of the best ways to elevate you to the next level in your surfing Most of the top women surfers have coaches and trainers. Focus on staying fit and healthy by eating well and cross training to improve your strength and techniques for surfing.
2. CREATE A WEBSITE, FACEBOOK, INSTAGRAM, SNAPCHAT AND TWITTER ACCOUNTS
If you're serious about becoming a competitive surfer girl, start promoting yourself across various digital platforms. You need to brand yourself as an athlete with images, videos and content about yourself. These media accounts should be your professional athlete accounts (different from your personal accounts). The content and images you post need to profile you as a great role model, a top-level surfer, and a good sport who has a lot of followers/fans. The importance of your public image cannot be emphasized enough. Trust me, sponsors will be checking out your digital presence, so make sure these accounts show you in the best possible light.
Personal Website: Must have the following:
a. A brief biography or your story. List your attributes and include words or phrases such as highly competitive, determined, your perseverance, and passion, as well as details about your training, coaching, healthy lifestyle, etc.
b. Your career highlights
c. Quality images that show your surfing ability and personality. (More detail to follow)
d. Collection of all your appearances in the media and press – how you give back to others, organizations, etc.
e. Sponsors (to have more credibility)
f. Links to all your social media channels – FB, Twitter, Instagram, Snapchat, etc.
g. Contact Page
h. Your website must be mobile friendly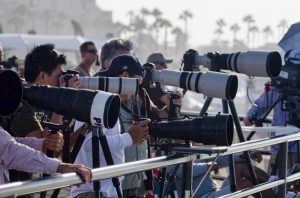 3. CREATE A PHOTO COLLECTION
A picture is worth a thousand words, especially for a sponsor. Have a collection of the best images of you free surfing, competing, and interacting and with your fans. At most surf contests, you'll find a number of photographers shooting photos as a hobby. Approach them and give them your contact information should they get any good photos of you. Find out if they charge for a photo or just require photo credits. Another way to acquire photos is to do a search on the Internet of using your name in Google images. If you find images of you that you'd like to use, contact the photographer. Do not use images without permission from the photographer.
4. BE CONSCIOUS OF YOUR APPEARANCE AND BEHAVIOR AT CONTESTS
Smile: Remember that I mentioned that you find a large number of photographers taking photos at surf contests? As a contest photographer myself, I not only shoot photos of the competitors in the waves, but as they come into the beach after their heats, as they are interacting with fans, signing autographs, warming up and stretching before the heats, etc., etc.. With that said, "Smile." Even if you lost your heat – SMILE. Show everyone you are a good sport. We're still cheering for you! And we're still taking photos of you.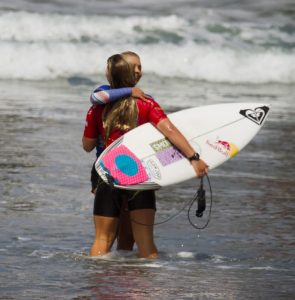 Show Good Sportsmanship: Everyone loses. Congratulate the competitors you lose to. Remember, when they are being interviewed about the heat they won, they are more likely to speak highly of you if you show them grace and good sportsmanship. And when you do win, you should do the same for the girls you beat by speaking highly of them and their talents as surfers and people. Plus, you never know if a potential sponsor is in the audience or watching the video clip and is looking for the perfect athlete to sponsor. Attitude is everything.
Don't Compete In a Thong Bikini: Sex isn't what you are selling. You're promoting your talents and professionalism. Wear appropriate athletic apparel. You need to give off an image/brand that sponsors are willing to invest in. If you want to be taken seriously as a top female surfer, act like one. Professional female surfers want to be known as surfers, not sex symbols. Besides, after taking a small poll of female teenage surf fans, they prefer not to see females competing in thong bikinis.
5. RESEARCH LOCAL SPONSOR OPPORTUNITIES
"If you surf, they will come." This is not likely a scenario for getting sponsors these days. Currently in the U.S., most of the large surf clothing companies are struggling financially. So only looking to them for sponsorship is like hoping to win the lottery. This is where you need to think and look outside-of-the-box.
Start Small and/or Local: If you are winning contests and making a name for yourself in your home town, then approach businesses in your area. Everyone loves to support athletes from their hometown. Types of sponsors you might investigate include:
a. Local companies that specialize in your sport – surf shops, surf equipment manufacturers, etc.
b. Local businesses that sell services or accessories a surfer might use – sunscreen companies, athletic gyms, health food companies or stores, automotive dealerships, restaurants, travel agencies, etc.
c. General athletic companies – think yoga, running, swimming, etc.
d. Companies that you like, even if they are not sports related – pet store, sunglass store, beauty products, chamber of commerce, etc. (Remember GoDaddy's sponsorship with female NASCAR driver Danica Patrick?)
e. Your circle of family/friends – do they have contacts at companies looking to help out athletes like you?
f. Sports Clubs and Organizations – ask for references from these sources.
KEEP TRACK: Use a spreadsheet to create your sponsor lists. Include their website address, emails, physical locations, phone number, and their social media accounts. Once you start contacting them be sure to note the date and what information you sent or shared with them.
6. RESEARCH POTENTIAL SPONSORS
This is a very important step. Go to every potential sponsor's website and read about them. Understand their mission, their vision, and their team. Learn everything you can. Subscribe to their e-newsletter, read their blog, and follow their social media channels. Commenting and reposting or mentioning them in a "tweet" can also be effective. This will give you enough information to answer the following questions:
a. Where are they located?
b. What is special about this company; how does it stand out among its competitors?
c. Who is their target market?
d. Do they sponsor athletes? What type of athletes do they sponsor?
e. Do you believe in their product or service?
f. What is their mission statement and can you help them with accomplishing what they wish to?
g. Ask yourself why they should sponsor you. Know what you are going to say.
h. Are they looking for product testing athletes?
For many companies, opinions and advice from highly accomplished athletes is often hard to come by. Offer your services for product testing and give the best and most complete feedback possible.
You should learn about the company's needs so you can sell yourself to them. There has to be synergy between you and the company so that a win-win partnership with you is possible.
7. NOW MAKE CONTACT
After you have researched brands and companies that you are targeting for your sponsorship, and you have a good idea how you are able to give back to them, it is time to reach out. Remember, you need to tell them what YOU can do for them by sponsoring you.
How to Reach Out: Call them. If they were a referral from a friend, tell them so. Try to schedule a meeting so you can share some of your photos, achievements, and so they can see who you are in person.
If calling isn't an option, message them on social media and ask for an email address you can use. Just sending an email out-of-the-blue is a bad option at first as it might end up in their spam folder, or they are so overwhelmed with emails that they never see yours.
You can also put together a one-page letter of why you are contacting them specifically and how it will benefit them to sponsor you. Outline your achievements and future plans, and paint the picture of just how awesome it will be to work together. Use great photos and make the document look fantastic so it represents you and your style.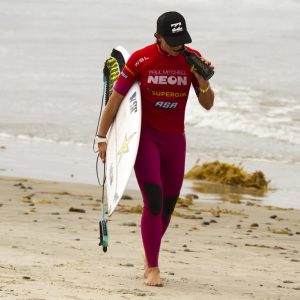 8. PROMOTE YOUR SPONSORSs
Now that you have the sponsors, you need to promote them. Remember this is a working partnership between you and your sponsors. The more you make them look good by having you as a sponsored athlete, the more likely other sponsors will be knocking on your door.
a. Connect on Social Media: Be sure to connect with your sponsors' social media channels with your own athletic accounts. Talk about their products and/or services. Let your viewers know why you are proud to have them as a sponsor. Put their logo and information on your website.
b. Display Their Logos at Events: With surfing, this is done mainly by having logo stickers on your surfboards. However, T-shirts, hats, and towels with their logos are important to be seen on you. I watched Courtney Cologne come in right after her heat at the Supergirl Pro and the first thing she did was put on her baseball hat with her sponsor's logo, and then she grabbed an energy drink that was also a sponsor. If you are being interviewed after a heat, be sure you are holding your surfboard with the sponsor's logo pointing towards the camera.
c. Collect Photos of You with Sponsor Logos: Start collecting photos of you with your sponsors' logos. It's a nice jester to send a copy of these photos to your sponsors and even tag them on social media. If your photo appears in the media, be sure to share that with your sponsor and on your social media accounts. Again, approach photographers at the contests with your contact information so they can share images with you. Your sponsor may want to buy and use these photos.
d. Have a Wikipedia Profile Page Created: As you become more popular in the surfing world, it's a great idea to have a Wikipedia page created for you. Wikipedia is one of the first websites to show up in the Google searches – especially for people searches. This page will need to display not only your bio, career highlights, but having your sponsors listed on this page will bring them more exposure as well.
NEED HELP WITH A PROFESSIONAL WIKIPEDIA PAGE? Contact us SurferGirls.com.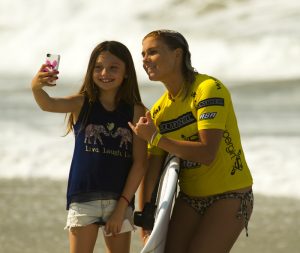 e. Increase Your Social Media Viewership: It's important you keep up-to-date with your social media accounts. Consider recruiting a friend or family member to help you with this. They can post while you are training, traveling, and competing. Many companies grow their followers and expand their markets by leveraging someone else's hard earned and loyal network. Be positive and up-beat, but be real on what you are posting. Sponsors want to see how many people you are able to reach, and this can help negotiate a better sponsorship term for you in the future. According to the article in Huffington Post, Neil Ridgway, head of marketing at Rip Curl Global, has insisted that all surfers have to rank high in competition and be influential with their fan base.
f. Create a YouTube account: This can be started when you create your other digital media accounts. YouTube is a great promotion vehicle to post videos of you surfing and any of your other achievements. Start collecting other videos of you surfing that you've found on YouTube and make it into a channel you can share.
g. Be Available for Sponsorship Promotions: There may be a time when your sponsor will ask you to attend an event or photo shoot. Do your best to be available for these requests and act as a professional. Even the highest paid athletes are committed to attend such engagements. The number of appearances you may be requested to attend should be mentioned in your contract.
Have faith in yourself as a person and in your talents. Keep persevering and follow your dreams of becoming a professional surfer girl. And don't be afraid to ask for a sponsorship. You won't get sponsors unless you ask.
Article is also published here: http://www.theinertia.com/women/8-tips-for-young-women-to-land-a-sponsor/
---
About the Author: Kathy Klossner
Kathy Klossner is the owner of Surfer Girls and Fine Art Photography – Waterdancer Photos. She was formerly a professional windsurfing competitor for over 13 years and worked in the action sports Industry for over 20 years. Besides creating search engine friendly websites, she can be found pursuing her other passions of photographing wild mustang horses in Nevada, surfers, and travel locations. Kathy is also an avid surfer and nature enthusiast.