OCEANSIDE, Calif. (July 30, 2017) – It was a spectacular 3 day event at the 10th anniversary of the Paul Mitchel Supergirl Pro in Oceanside, CA. This year saw a record breaking number of 120 competitors fighting for this World Surf League title.
The final heat was a battle between the "wave-warrior", Courtney Conlogue of Santa Ana, California, and the "stylish surfer", Sage Erickson of Ojai, California. Courtney's innovative and progressive skill with a massive air-reverse earned her a near-perfect score of 9.77. Both of these amazing surfers have stated that the other inspires them to perform at their best.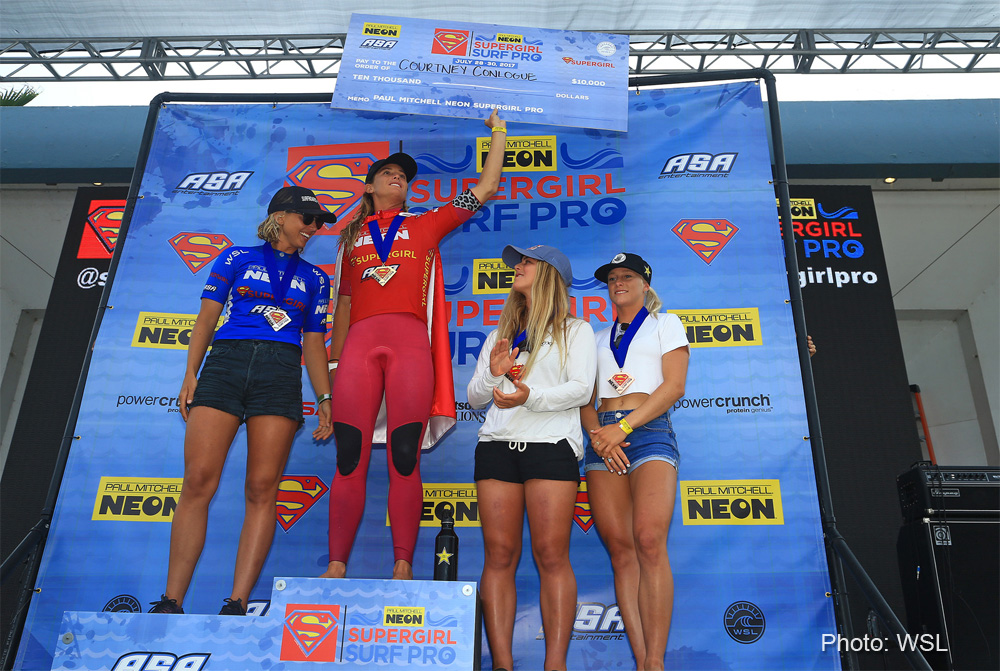 "After being the runner-up a few times, I'm definitely stoked to get the cape back," Conlogue said following her win. "The opportunity to surf against Sage in the Final was a big highlight of this event. I haven't been able to compete against her in a Final in a long time and every time we surf against each other, she brings out the best of me. I just know it's always going to be a fun heat and she always lays it down, so when she opened with that seven, I just knew it was going to be one of those heats. It was a great way to end this event."
"I hold this contest high up on my priority list to do well, I feel a sense of comfort here and responsibility to perform well for all my friends and family," Erickson said. "It was a dream to be in a Final with Courtney again, especially here in California. We have so many memories together and we're at a point where we love and encourage each other, but I still wanted to beat her."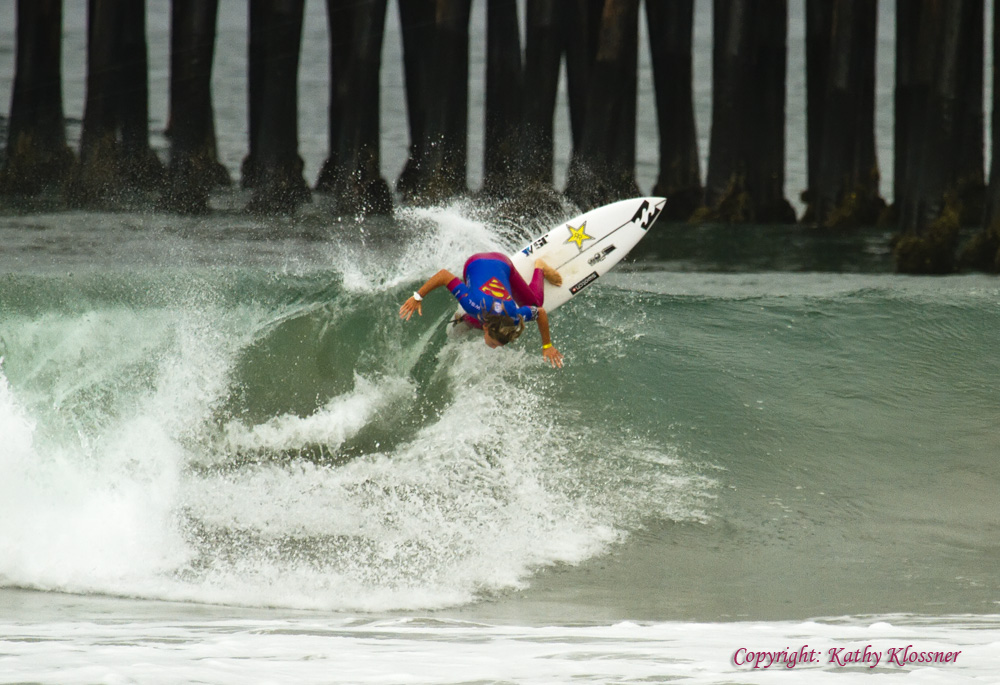 Erickson went on a tear through finals day taking down Australian Holly Wawn (AUS) in Round Six before eliminating defending Supergirl Pro winner Coco Ho (HAW) in the Quarters and 15-year-old phenom Caroline Marks (USA) in the Semifinals. Her dominating backhand attack was on display throughout the day that helped propel her to a Finals appearance. Falling shy of her third Supergirl Pro title didn't hinder the popular surfer's spirits as she now sits at No. 1 on the QS rankings.
But, a huge bonus for Tatiana Weston-Webb and Erickson was walking away with a brand new Nissan Rogue Sport and a $5,000 donation to charity for standing out as Supergirls — based on a combination of competition results and social media outreach. The program results came down to a tie between the two surfers, which was decided by a coin-flip that Weston-Webb won. To show their support for the surfers and the event, Nissan doubled down and presented Erickson with a car of her own.
"Nissan is excited to be the official automotive sponsor of the Neon Supergirl Pro, as well as presenter of the "Super Sport Award," said Jason Stoicevich, Nissan Regional Vice President, who announced the winners on stage during the Awards Ceremony. "It was inspiring to see so many female athletes come together and support one another throughout the competition. Nissan is looking forward to building upon these key relationships in the lifestyle sports community."
"It's such an amazing thing for Nissan to do for women's surfing, showing that they really believe in us," Weston-Webb added. "It's really awesome to be a part of this inspirational event with such an incredible prize."
This weekend is all about female empowerment," said Rick Bratman, CEO of ASA Entertainment, the event's producer. "The Supergirl Pro was created with the mission of providing opportunities for young women in areas where they are traditionally under-represented. It's incredibly heartening to see all the young women that come out to watch these phenomenal athletes compete and find inspiration for their own dreams."
For more detailed information on the Paul Mitchell Supergirl Pro, please visit www.supergirlpro.com
Paul Mitchell Neon Supergirl Pro QS6,000 Final Results:
1 – Courtney Conlogue (USA) 16.60 6,000 points $10,000
2 – Sage Erickson (USA) 12.66 4,550 points $5,000
Paul Mitchell Neon Supergirl Pro QS6,000 Semifinal Results:
SF 1: Courtney Conlogue (USA) 15.43 def. Tatiana Weston-Webb (HAW) 9.67
SF 2: Sage Erickson (USA) 12.33 def. Caroline Marks (USA) 9.70
Paul Mitchell Neon Supergirl Pro QS6,000 Quarterfinal Results:
QF 1: Tatiana Weston-Webb (HAW) 12.64 def. Keely Andrew (AUS) 11.67
QF 2: Courtney Conlogue (USA) 15.33 def. Silvana Lima (BRA) 13.90
QF 3: Caroline Marks (USA) 13.53 def Kobie Enright (AUS) 12.67
QF 4: Sage Erickson (USA) 11.87 def. Coco Ho (HAW) 11.54
Paul Mitchell Neon Supergirl Pro QS6,000 Round Six Results:
Heat 1: Tatiana Weston-Webb (HAW) 11.16 def. Carol Henrique (PRT) 9.84
Heat 2: Keely Andrew (AUS) 9.44 def. Meah Collins (USA) 7.60
Heat 3: Silvana Lima (BRA) 16.17 def. Philippa Anderson (AUS) 9.96
Heat 4: Courtney Conlogue (USA) 13.74 def. Biance Buitendag (ZAF) 13.13
Heat 5: Kobie Enright (AUS) 14.50 def. Claire Bevilacqua (AUS) 9.03
Heat 6: Caroline Marks (USA) 17.00 def. Leilani McGonagle (CRI) 12.97
Heat 7: Sage Erickson (USA) 10.66 def. Holly Wawn (AUS) 10.10
Heat 8: Coco Ho (HAW) 13.17 def. Summer Macedo (HAW) 10.37