Bethany Hamilton was born February 8, 1990 in Lihue, Kauai, Hawaii. She is most famous for surviving a shark attack that happened on the island of Kauai in 2003. She lost her left arm in the attack, but that never slowed her down or hindered her spirit to continue to compete in professional surfing. Bethany is definitely honored as a top female surfer.
(Photos can be purchased at: Best Photos Online )

Surfing Career
WSL 2016 Rank: 19
| Year | Event | Place |
| --- | --- | --- |
| 1998 | Rell Sun Menehune | 1st |
| 2002 | Open Women's Division of the NSSA | 1st |
| 2004 | NSSA National Competition | 1st |
| 2005 | NSSA National Competition | 1st |
| 2005 | O'Neill Island Girl Junior Pro tournament | 1st |
| 2006 | NSSA National Championship: 18-and-under Finalist | 5th |
| 2006 | Hawaii Team Highlights | 4th & 5th |
| 2007 | NSSA Regionals | 1st |
| 2007 | T & C Pipeline Women's Pro | 1st |
| 2008 | US Open of Surfing—Huntington Beach, CA | 5th |
| 2008 | Roxy Pro Surf Festival—Phillip Island | 3rd |
| 2009 | Rio Surf International in Rio de Janeiro | 3rd |
| 2009 | Billabong ASP World Junior Championship | 2nd |
| 2014 | Surf 'n' Sea Pipeline Women's Pro | 1st |
| 2015 | Swatch Women's Pro | 15th |
| 2016 | Fiji Women's Pro | 3rd |
About the shark attack
Bethany Hamilton's Surfboard that was in the shark attack, now on display at the Oceanside Surf Museum. Bethany was 13 years old when she was attacked by a tiger shark at Tunnels Beach on the island of Kauai. She was best friend Alana Blanchard, Alana's father, Holt, and brother, Byron, when the attack occurred. The Blanchards got Bethany back to shore and was rushed to the hospital.
Fisherman Ralph Young had caught and killed a 14-foot tiger shark a mile from where the attack happened. They found surfboard debris in the shark and the measurement of its mouth matched the bite mark on Bethany's surfboard.
It only took 1 month after the shark attack before Bethany was back to being a surfer girl. Her surfboards were customized with a handle for her right arm to hang onto as she paddles out into the waves. She learned to kick her feet so to make up for the loss of her left arm. After teaching herself to surf with one arm, on January 10, 2004, she entered a major competition and is now using a standardized short surfboard.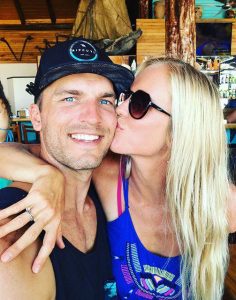 Bethany's Marriage
In 2012, Bethany Hamilton met her husband, Adam Dirks through mutual friends. They became engaged in April 2013. Bethany and Adam got married on August 18, 2013 on Kauai's north shore, near where she grew up.
Bethany Hamilton's Baby
In 2015, Hamilton gave birth to a son that was named Tobias.
Media Career
Movies: Soul Surfer, Heart of a Soul Surfer: The Bethany Hamilton Story
Books: Body and Soul: A Girl's Guide to a Fit, Fun and Fabulous Life; A True Story of Faith, Family, and Fighting to Get Back on the Board
Shop for Bethany Hamilton Phone Cases
Bethany's Sponsors
Ripcurl | Cobian | Sticky Bumps | Futures Fins | Channel Islands Surfboards | XTR Epoxy Pro | Crush Sunglasses | Tampax | Damon Smile
Bethany Hamilton Videos
Her greatest joy is being a wife and mother, and she continues to touch and inspire lives globally
as a professional surfer, and motivational speaker.