It was the female Australian surfers that dominated the Margaret River Pro this month. Sally Fitzgibbons won big over Tyler Wright in the Finals at the Drug Aware Margaret River Pro in Australia. Tyler had won her heat over Sage, who surfed well, but wasn't able to find competitive scores on the lefts she kept chasing. Still, it's a strong result for the Californian, and she'll take the confidence of an equal 3rd to Bells, where the waves look a lot like home.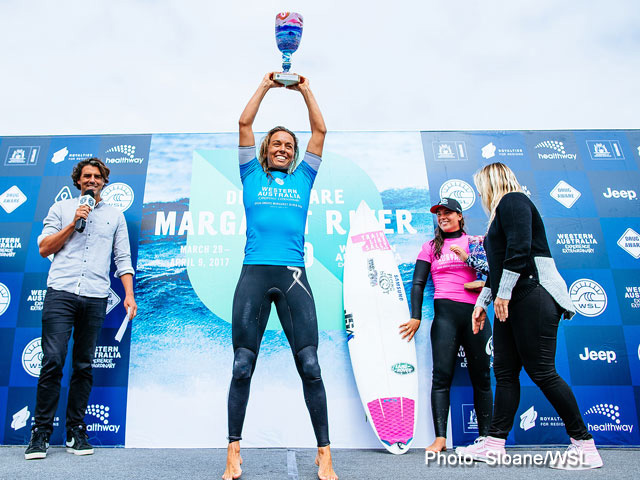 Semifinal No. 2 was Stephanie Gilmore vs. Sally Fitzgibbons, but for nearly 29 minutes and 20 seconds, it was Sally by herself. While Sally was busy with the bird in the hand under priority, Stephanie waited for the birds in the bush to present themselves. They didn't, Steph surfed a five-minute heat and Sally grinded her way into the last heat of the day against Tyler Wright.
Sally owned the final. She caught better waves, and surfed them as well as she's surfed any the entire Margies Pro. Huge arcing carves on her first turns, committed finishing moves on the inside section. She took the lead from the start and was selfish with it until the horn sounded, 40 minutes later. A well-deserved victory.
Before this season, there was a lot of chatter that Sally was stretching herself too thin. She was busy launching Train Like Sally and, as one Aussie told me, "You couldn't turn on the TV over here without seeing her on some talk show or another."
But after her third at Snapper and her win Saturday at the Drug Aware Margaret River Pro, she's tied in the ratings with Stephanie. She's more focused. She's getting better results. And now she's much more likely to be on TV for all the right reasons.
Rock, Paper, Scissors for who wears the yellow jersey at Bells?
Drug Aware Margaret River Pro Final Results:
1 – Sally Fitzgibbons (AUS)
2 – Tyler Wright (AUS)
Drug Aware Margaret River Pro Semifinal Results (1st, 2nd):
SF 1: Tyler Wright (AUS) def. Sage Erickson (USA)
SF 2: Sally Fitzgibbons (AUS) def. Stephanie Gilmore (AUS)