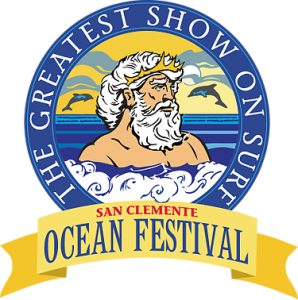 The 2017 San Clemente Ocean Festival, known as "The Greatest Show on Surf", spun off over a hot July weekend. With perfect weather and an abundance of waves, no one was disappointed with this event. An annual festival with its roots in the Lifeguard community provides a unique opportunity for participants – young & old – to enjoy all that San Clemente's beaches & pier have to offer.
The San Clemente Ocean Festival is organized and run by a board of talented volunteer directors and hundreds of community volunteers who provide the manpower during the two-day festival. Schedule of events included surf riding contests, biathlon, Dory boat races, SUP Surfing Championships, 5K beach run, one-mile ocean swim, Dolphin Dash for kids, body surfing clinic, Mermaid Parade with King Triton & Mermaids, arts & crafts, face painting, live performances & more. It is definitely a family event with a good vibe, huge community support and a lot of positive energy. Even the kids were stoked to be picking up beach trash.
Surfer Girls decided to photograph the Grom Surf Contests of kids 11-14 years of age and the 7 and under push-in surf contest. Every one of the kids charged the waist-to-shoulder high waves in 70 degree water as their siblings and parents cheered them on from the beach.
This is definitely a fun event and we look forward to seeing more of it next year. Thank you San Clemente, for having such a wonderful community.
Photos of The 2017 San Clemente Ocean Festival